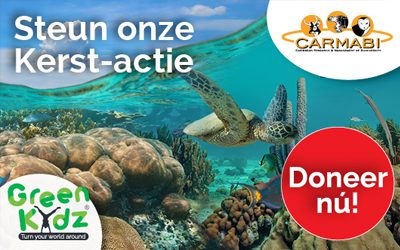 Donate now! Help with our Christmas action!
Inspire our local schools and create more Coral Reef Awareness on Curacao!
With your help, we can give every school in Curacao our unique, educational coral teaching package with our colourful poster and coral comic book in two languages (PAP/NED) for free
Schools and students in Curacao have had a tough year because of all the restrictions from COVID. That is why we have joined forces with Carmabi Educatie to create something inspiring!
Our common goal is to give all 65 schools in primary and special education this Christmas present. This is not possible without your help!
Will you help us reach our goal?
Please transfer your donation as a person or a company to the GreenKidz Foundation, MCB account number: 27502502.
Do you want an invoice?
Then fill in the form with your company details.
We will send you the invoice.
Thank you very much in advance for your support.
The GreenKidz Foundation was established in 2015 with the goal of 'Changing the mindset of generations'. In recent years we have reached thousands of students and hundreds of teachers with modern, multilingual environmental education. In the coming years we will focus on young people throughout the Dutch Caribbean with innovative nature and environmental education and (digital) learning programs.