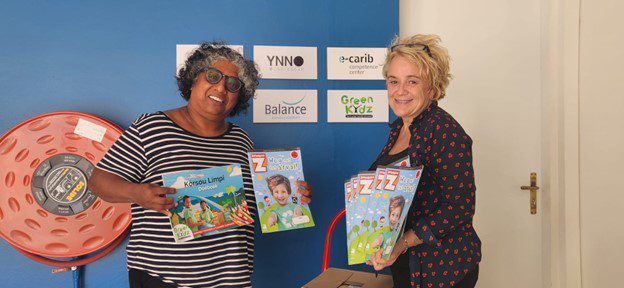 GreenKidz receives 700 books about trash from Biblionef
On October 9, 2023, GreenKidz coordinator Maya Mathias received 700 booklets titled "Weg met afval!" from the Biblionef foundation. Ineke van Riemsdijk, the representative of Biblionef in Curaçao, personally delivered them, hoping that these beautiful and cheerful workbooks will complement and support the guest lectures on waste, litter, plastic, and recycling that GreenKidz offers to schools.
Read more
Maya Mathias happily accepted the booklets filled with fun information, coloring pages, and games. She will certainly use them in the upcoming school year. Mathias said, "Every year, through our Christmas fundraising, we donate teaching materials to students in Special Education. This year, it will be a GreenKidz 'kleru and look' book, and these wonderful workbooks fit perfectly with that."
The GreenKidz Foundation was established in 2015 with the goal of 'Changing the mindset of generations'. In recent years we have reached thousands of students and hundreds of teachers with modern, multilingual environmental education. In the coming years we will focus on young people throughout the Dutch Caribbean with innovative nature and environmental education and (digital) learning programs.