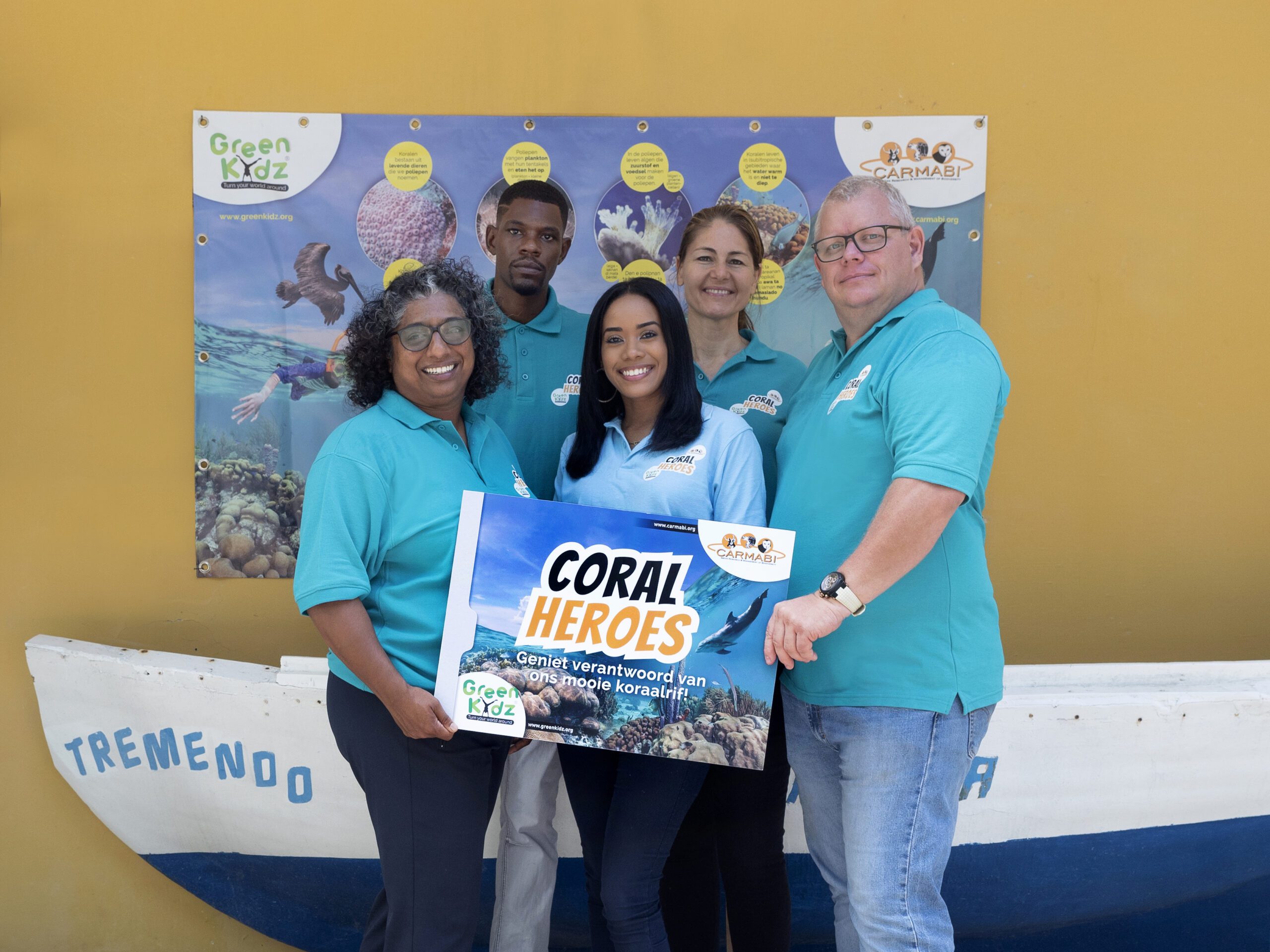 Coral Heroes teaching package for all schools on Curacao
On World Ocean Day, 8 June next, GreenKidz and Carmabi are launching their Coral Heroes teaching programme about Curaçao's coral reef. This program will be made available free of charge to all FO and SO schools on Curaçao and fits seamlessly into the curriculum of the subject Mens, Natuur & Techniek (MNT). From 8 June, interested parties can use a digital link to take a virtual 3D tour from their mobile phone through the Marine Education Center at Piscaderabaai and easily click through to photos and videos of the colourful, bilingual teaching material.
Working on Coral Awareness
With the Coral Heroes teaching programme, Carmabi and the GreenKidz Foundation want to contribute to Coral Awareness on Curaçao. Maya Mathias, GreenKidz coordinator: "With our bilingual teaching programme, we show pupils how beautiful and vulnerable our coral reef is, how we can protect it and how we can enjoy it responsibly. With the teaching and testing materials, which can be downloaded for free from www.greenkidz.org and www.carmabi.org, local teachers can also get to work very independently.
Carmabi and GreenKidz worked closely together to create the Coral Heroes teaching pack. As a result, the teaching package was ¬put together by a ¬multidisciplinary team of coral experts, local subject teachers, educational material developers¬, ¬professional form¬¬ givers and illustrators¬. Coral Heroes programme not only includes beautiful interactive presentations, games, ¬songs, colouring and viewing pictures and mind maps for¬¬ learners, but also tests, key concept lists¬, an extensive teacher's guide and a series of Papiamentu language instruction videos for teachers.
More lesson plans for
foundation education
The development of the Coral Heroes curriculum ¬was made possible by the generous donations of over 100 individuals and companies in Curaçao and the Netherlands. The programme was designed and tested on students aged 10 to 12. Cor Hameete, head of the Marine Education Center: 'There is a lot of interest in Curaçao for modern interactive teaching materials about our own coral reef. Together with GreenKidz, we are currently investigating how we can extend our unique Coral Heroes teaching programme to all eight groups of primary school with the help of local and Dutch funds.
More information
More information about this teaching programme and the link to the 3D Coral Heroes Tour can be obtained from the GreenKidz coordinator.
Maya Mathias
T: +5999 528-0445
M: mathias@greenkidz.org
Take the virtual Coral Heroes tour!
Step inside the Marine Education Centre and check out our new curriculum. Click here to start your tour. Have fun!!!!
The GreenKidz Foundation was established in 2015 with the goal of 'Changing the mindset of generations'. In recent years we have reached thousands of students and hundreds of teachers with modern, multilingual environmental education. In the coming years we will focus on young people throughout the Dutch Caribbean with innovative nature and environmental education and (digital) learning programs.