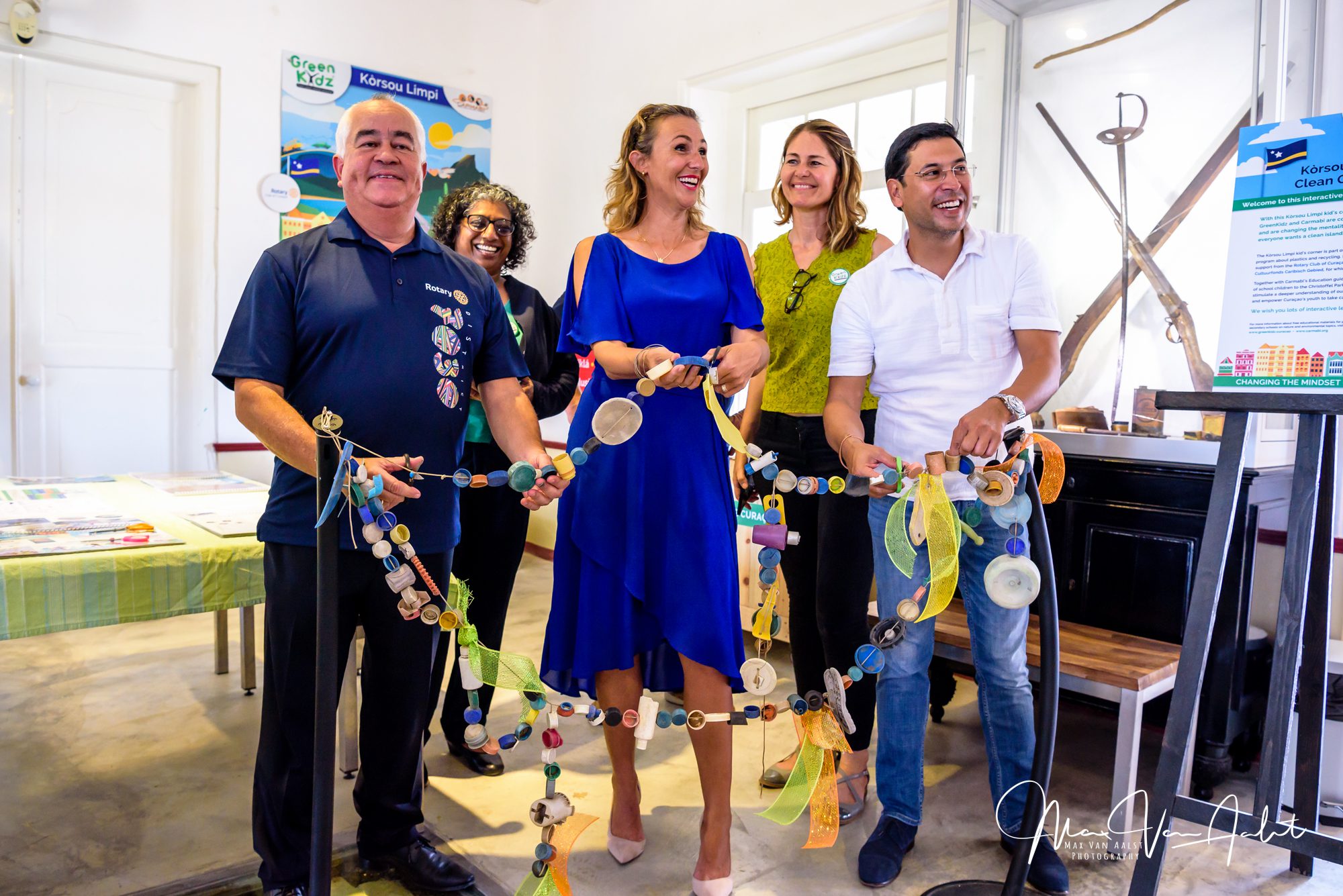 From left to right Pierrot Hurtado, chairman Rotary Club of Curacao, Maya Mathias GreenKidzcreator, Myrthe Verhulst , chairman Curacao Clean Up, Ivonne Zegveld GreenKidzcreator, Halder Lam, chairman Prins Bernard Cultuurfonds Caribisch Gebied
Fotos from Max van Aalst
Opening Kòrsou Limpi Exhibition
On 8 July 2021 the children's exhibition Korsou Limpi in the Savonet Museum of the Christoffelpark was festively opened by Rotary Club of Curacao, Prince Bernard Culture Fund Caribbean and the Foundation Curacao Clean Up This permanent, interactive exhibition stimulates children to think about waste and litter and to become environmentally conscious waste and litter clean-up heroes by applying the principles of Reuse, Reduce, Recycle & Refuse in their daily lives
Fruitful cooperation between GreenKidz and Carmabi
The Kòrsou Limpi (Clean Curacao) exhibition with accompanying textbook and activity book was developed by the GreenKidz Foundation. With the cooperation of the Carmabi Foundation, which manages various above- and underwater nature parks on Curaçao, it will get a permanent place in the Savonet Museum of the Christoffel Park. The exhibition is a good example of the fruitful cooperation between Carmabi and GreenKidz Foundation, which previously launched a joint Coral Heroes teaching programme for primary schools in Curaçao.
Working together on environmental awareness of Curaçao youth
Cor Hameete, head of the Marine Education centre and subject teacher of People, Nature and Technology. Carmabi and GreenKidz have been making free educational programmes on nature and environmental topics on Curaçao for years. With this exhibition, we reach thousands of pupils a year who visit the Christoffel Park under the guidance of Carmabi guides. By cooperating, we increase our strength and reach and make optimal use of each other's knowledge and facilities. With this exhibition we will also show foreign tourists that we, as an island, are actively working on more mil
More exhibitions and teaching materials for the Dutch Caribbean
The development of the Kòrsou Limpi exhibition and accompanying teaching and activity book (NED/PAP) was possible thanks to the support of main sponsor Rotary Club of Curaçao and the Prins Bernard Cultuurfonds Caribisch Gebied. It is part of a broader educational programme 'Plastic and Recycling' that can be downloaded free of charge via /lesprogrammas/korsou-limpi-schoon-curacao/. GreenKidz creators Maya Mathias and Ivonne Zegveld hope that it will inspire other islands Mathias: 'It would be great if there would be a Kòrsou Limpi textbook and also Boneiru Limpi and Aruba Limpi textbooks in cooperation with these islands!
More information about this teaching programme can be obtained from maya@greenkidz.org
The GreenKidz Foundation was established in 2015 with the goal of 'Changing the mindset of generations'. In recent years we have reached thousands of students and hundreds of teachers with modern, multilingual environmental education. In the coming years we will focus on young people throughout the Dutch Caribbean with innovative nature and environmental education and (digital) learning programs.